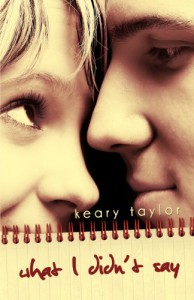 I had high hopes for this book as I tend to like books about people learning to come to terms with a new disability. But this didn't have the depth I would have liked to see, the focus switched from Jake pretty early on and the writing was really only so-so.
So eighteen year old Jake, one of seven kids, lives on Orcas Island in Washington - a small, tight knit community where everyone knows everyone. One night at a party Jake and his friends have a few drinks and then drive and get in an accident. A t-post goes right through his neck and destroys his vocal chords causing him to lose his voice. The accident finally allows him to get close to Samantha, the girl he has been in love with since freshman year when she moved to the island - basically insta-love for him according to a flashback.
They get close and it's learning about Samantha's situation that helps him realize that his own situation could always be worse and helps him get through this huge life change. At about the 30 or 40% mark, the focus of the book switched from Jake's situation to Samantha's. I felt that Jake came to terms with being mute shockingly fast, especially for a seventeen year old boy. And even when he was "down," it felt like we only skimmed the surface of those emotions.
The beginning of the book particularly had a bunch of back and forth time jumps that really threw off the momentum of the story for me. I don't mind flashbacks, but there were too many, too close together and it didn't set a good tone of the book. I also didn't love the chapter titles which were an indication of the passage of time like "4 1/2 days since the accident, 10 months 'til Air Force?" or "8 hours since pushing the self-destruct button, 7 weeks 'til Sam's birthday." Just eh.

There were definitely some writing errors - not to many, but enough that I questioned the editing of this book and mistakes like below are not acceptable ones to get past an editor.
- passed instead of past
- disbursed instead of dispersed
- "So," Cater said as us and Rain walked to our lockers..."
Other problems I had included casual slut-shaming - the "villain" in this book was "Norah the Whora" (are you f-ing kidding me!?) - and just overall a too "wholesome" feel. The kids in this high school were a little too goody-goody for me. I didn't think it was realistic. I understand they are supposed to be part of this small island community and I guess were brought up with more of a family mentality or something, but I still just didn't believe all of these kids would be so "good." I might have been able to swallow it in a better book, but I wasn't here.